Old Pond Life
This page describes the pond life that was found in and around the pond at our old house.
Fish
The pond contained:
Four Golden Orfe (which I bought from Paradise Water Gardens and from Russells Garden Center). These are now clearly the largest fish in the pond at about eight inches or so. These all died. Two died in a very hot spell, and the other two died during the winter 2003-2004.
A bunch (15 or so) goldfish that were purchased as twelve cent feeder fish (from Tropic Isle). Most of these are around the six inch mark (after about 20 months). Some were locally bred and survived from 2000 -- these are rather smaller. The goldfish have started to try and swim up to the base of the waterfall. This is problematic as they have to go up a set of rapids -- but they do try (warning -- 161k video clip).
Seven shubunkin (from the same stores as above). These are five inches and up.
Some number of babies. I'm not sure what they are babies of -- some are pure gold, some are spotted and some are black. I guess that time will tell. These are now quite big.
One big black fish. Originally I thought that it was a goldfish that hadn't changed colour, but it is over five inches now!
Amphibians
Various frogs have visited the ponds since construction. In 2000, we added some bullfrog tadpoles (mostly because we didn't know what we were doing!). The contents are now:
One small bullfrog left -- Rana catesbeiana. We evicted the three that came from the tadpoles, and which overwintered with us. One went to the local pond in the Christmas Tree Farm, and the other two went to the local pre-school for the kids to look at. They then got released into the stream behind the school.

In 2002 we evicted the large one pictured here back to the Christmas Tree Farm pond. We still have a small one left that shouldn't be able to eat too much!


No Pickerel Frogs -- Rana pulustris. We caught one in the Christmas Tree Farm pond and transported it to our pond. It swam around for a couple of days, and then vanished. I think that it heard all it's friends calling, and decided to hop back home. [I hope that it didn't meet the Water Snake that we saw when we caught the frog.]


I guess the same one came back at the end of July. I was outside at night checking on what was happening and I almost stepped on this guy. He seemed unfazed by my taking pictures of him!


One Gray Tree Frog -- Hyla versicolor. My 3 year old daughter found this hiding in our patio umbrella. Initially we were skeptical as to it's existence (how many frogs hide in umbrellas?). However, when it hopped out, we became believers. It hopped off pretty rapidly. I wonder if it had come down to the pond to breed?


One Northern Green Frog -- Rana clamitans melanota. This just showed up one day, and then vanished the next. However, it came back and I managed to get a bunch of photographs of it.


Another Green Frog. In 2002, we have had a lot of frogs which seem to come and go. I'm now wondering whether the Ribbon Snake has anything to do with them going.


Another Green Frog -- with a white belly. Does anybody know what the color significance is to their underside? Yes -- a kind reader told me this: This will hold true for Bullfrogs, Green Frogs, and Mink Frogs. Adult, breeding age males will typically have yellow throats and sometimes this yellow can cover most of the underside. Females will have white or gray throats. This usually holds true... females will always have white or gray throats but males will only usually have yellow throats. A better way to tell for sure is the size of the tympanum, or "ear". The tympanum of an adult male will be about twice the size of the eye while in females it is no larger than the eye. Again, this only holds true for these three species..


A Wood Frog -- Rana sylvatica. But he (or she) was quite cute while he lasted. I haven't seen him in a while..... By the way, how do you sex frogs? The same kind reader as above said: In almost every species there is one trait that is the same. Adult breeding age males typically have large, swollen, thumbs in comparison to females. There isn't a specific size to go by, but if you see enough and have a chance to compare them you eventually get a feel for whether it is male or female. Adult male Gray Treefrogs will usually have a black throat. The problem with all these traits I've mentioned is that they are only tendencies. They hold true most of the time. Someone will always find an example of a specimen that goes against everything I have said. One surefire trait that will work, however, is that if you see a frog calling, it is a male. That's just not very good because they only call seasonally. As a note, both sexes of some species can make noise... usually a distress squeek. It's the breeding call that allows you to distinguish..


A friend found this salamander in their swimming pool where it wasn't very happy -- so it came to visit us. I thought that it was the Northern Two-lined Salamander -- Eurycea bislineata. The photograph is not very good as it was taken at night holding a flashlight in one hand, and the camera in the other. This guy is small -- only two inches or so long.

However, it turns out to be the Northern Red-backed Salamander -- Plethodon cinereus.


Some tadpoles. These were taken from the Christmas Tree Farm pond, and I have no idea what they are -- except that they aren't bullfrogs. They are already growing legs and are still under 1.5 inches (including tail). I suspect either Green Frogs or Spring Peepers.

No turtles. A local police officer found this turtle trying to cross the road close to us, and he brought it round, thinking that it might make a nice addition to the pond. After doing some basic research, I decided that it would probably run away, and if it didn't, then it would eat all the plants.
Critters
A variety of other critters have shown up including snails and a pair of fishing spiders.
Lots of water boatmen
Lots of gelatinous blob-like critters. It forms a blob about 0.2 inches in diameter, and then sometimes stretches out a leg (?), tentacle (?) maybe 0.75 inches.
Damselfly larvae.

Dragonflies.
Lots of microscopic stuff. My daughter and I went to the class Mystery Creatures of the Not-So-Deep at the Broadmoor Wildlife Sanctuary in Natick, MA. We looked at the microscopic critters there and had someone helpful on hand to assist in their identification. We had a great time -- highly recommended. I now think that the critters deserve their own page -- maybe next year.
Some Daphnia Magna (from LFS Cultures) which are supposed to be clearing the water [actually I think I managed to kill them all].

Birds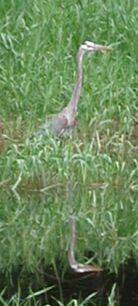 The Great Blue Heron is our nemesis. In 2000 we thought that it had eaten all our fish, and we were heartbroken. My three-year old daughter called it the 'Big Bad Bird' and would run outside shouting whenever it appeared. Suprisingly, after a gap of maybe a month, nearly all the fish reappeared. I suspect that they had been hiding in the piece of black plastic drainpipe that I had put in the pond for this purpose. I guess that they were pretty hungry as we hadn't been feeding them.

After this, we now cover the fish (bottom) pond with a net. It doesn't look nice, but we don't really have any option.

---

Last updated: October, 2005
Philip Gladstone